As natural health practitioners, a part of our practice is to look at the whole person when prescribing remedies.
This includes medical conditions, diet and lifestyle choices and work/home commitments to name just a few.
All these factors have an impact on our immune system, and like practitioners, now more than ever we should consider OUR WHOLE PERSON and support our systems to function optimally.
Our immune system is our body's natural defense, responsible for fighting off attacks by viruses and bacteria that can cause infection and disease. The immune system defends your body from these attackers using its network of cells, tissue and organs.
A fighting fit immune system is one that is nurtured and kept fit through nutrient-rich foods. These nutrients found in many fruit and vegetables, poultry and shellfish are used by the immune system to help fight off illnesses such as colds and the flu.
Here are 10 foods chosen for their high nutrient value. These foods contain Vitamins A, B6, C & E, antioxidants (which may help to fight free radicals that attack your cells), allicin (found in garlic) and beta carotene both which have been researched to help fight infection.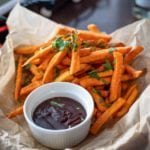 10 IMMUNE BOOSTING FOODS (including yummy kumara chips!)
Citrus                    Kumara               Mushrooms
Garlic                    Ginger                 Broccoli
Bell Peppers         Turmeric             Green Tea – add ginger, lemon, turmeric
Chicken Noodle Soup – or try – Roast Garlic Chicken with Chinese veggie/rice stir fry
The key message here is to include a varied and wholesome range of foods to your diet and lifestyle so you can give your immune system the power it needs to fight off attack.